GabLit:社會化娛樂聚會資訊訂閱網是一個致力於本地化娛樂資訊搜尋並提供資訊訂閱的網站,通過他們開發的演算法來對各大娛樂網站進行搜尋和抓取資料,然後篩選出娛樂聚會活動,並分享給喜愛娛樂活動的使用者。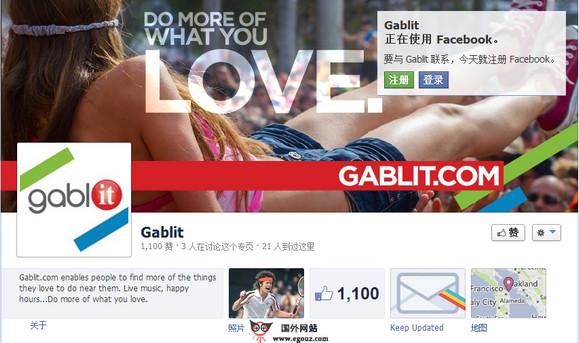 Gablit是一個新的娛樂搜尋引擎和娛樂活動推薦的社會化搜尋引擎,網站的創辦有一個不為人知的故事,當三個創業人晚上無所事事,當他們在沒有手機的時候,想要去找一個娛樂活動,但是從海量的網際網路資訊中無法找到適合他們的活動,這時候他們就想到了去開發一個程式,識圖從海量的娛樂資訊中找到本地化的娛樂指南資訊,因此就有了這個網站。
Gablit is a new entertainment and recommendation, social search engine, born out of London a few years back, when three entrepreneurial types realized one night when they had lost their mobile phone, that trying to find the best entertainment available was turning into a full time job. They decided to develop this classy, informative, localized entertainment guide that encourages entertainers to promote their event and gives the audience a place to find out everything that is going on around them or wherever they are planning on visiting.
Gablit solves a problem that people often find themselves having to deal with. Namely, finding and planning for the entertainment that is around them by searching online. But, rather than addressing the more modest technical task of focusing the app on a specific location or niche, Gablit has built the most comprehensive and scalable platform across all geographical areas and sectors to find the best entertainment options wherever you are. This is coupled with truly differentiated search relevancy to generate both organic and social discovery.
It offers a global solution that pairs both promoters and those of us who are looking for a great night of fun and allows us to curate and share the information we find with friends. You can search for anything you feel like going to, whether it be concerts, comedy or even triathlons, if it comes to that.The real magic comes in the impressive results that can be found by mixing various search options. So, if you want to search for 'happy hour' and 'karaoke,' or 'live music' and 'juggling,' you can find more accurate results using Gablit. You can add anything you find to your personal stream and create new streams for whatever you want. You could have a 'Speed Metal' or a 'Things To Do' stream if you like.
Gablit will join WikiDo and Timista as some of the more interesting entertainment guide apps, assuming it takes off as intended. This one has a couple of major positives going for it though. For a start, it's a global guide whereas many of the others concentrate on purely local entertainment. But it could well be the mixed input search engine that makes it more likely to succeed. Put in any number of different genres and Gablit will come up with a plethora of entertainment from Dubstep to the Boston two-step (if you are lucky.) This is an easy to use entertainment app with an interesting search engine that will save you hours of searching through numerous entertainment websites.